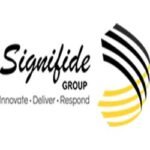 Overview
Sectors Consulting and Strategy

Posted Jobs 24

Viewed 46
Company Description
About the Company
Signifide Group International Limited was Registered in Zambia in October 2018 as a Company Limited by Guarantee. It is headquartered in Kenya with a footprint in all of Sub-Saharan Africa. Our products are designed for micro, small and agriculture enterprises in rural and informal settlements, reaching them with digital e-spaces and payment solutions for their goods. Women and youth are our innovation champions to whom we in turn deliver affordable and accessible solutions at scale while responding to the evolving market needs. Besides our e-commerce and inclusive finance solutions, we provide gender and social inclusion consultancy services. Our Founder and members of the Advisory Board combined have over 50 years of experience.
Our Value Proposition
Our products are not only designed to support women's linkage to markets and payment systems. They are developed for Eastern and Southern African markets, with country context-specific design, that takes into consideration reduction of time and cost burdens that women face, in Kenya for instance and reduction in the cost of transaction and access to markets in Zambia. The descriptions below aim to show the functionalities and expected results for both products in Kenya and Zambia. 
Active Jobs From Signifide Group International – Kenya